I must have been pretty bored to have written three haiku in one day.
What's rebuttal scope?
Will jurors see glove photos?
A few, Ito rules.
9/11/95
It appears the prosecution has begun to put on its rebuttal case.
 Defense neckties match.
What do all those symbols mean?
Kunta Kinte cloth.
9/11/95
 This was such a sight. People were asking if there was a sale on the ties. Some had to ask was Kunta Kinte cloth was.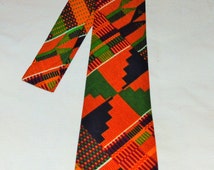 Those who had read Alex Haley's book, Roots, knew.
Gloves both black and brown.
What's the probative value?
She bought him two pairs.
9/11/95
Since the videos of Simpson broadcasting for the NFL showed him wearing both black and brown gloves, the defense asked about the probative value of showing the videos to the jury. The prosecution said they proved Nicole had bought Simpson two pairs of gloves.